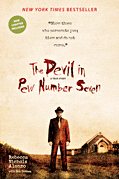 Rebecca's entire childhood was riddled with terror. Her father and mother moved to Sellerstown, North Carolina to pastor a church there. Seems like the ideal family setting. However, while most of the congregation and community welcomed him, one man was bent on running the pastor and his family out of town. For years this man terrorized the Nichols family, but Robert refused to back down in the face of this terror, until one Easter weekend the unthinkable finally happened. The family was torn apart when a man entered their kitchen and began shooting.
If anyone has a reason to hold on to anger, hatred and bitterness it would be Rebecca But this is the true store of what forgiveness is truly about. She explains how her upbringing allowed her to forgive those responsible for taking away from her the carefree days of childhood, stealing her mother and eventually her father from her. By forgiving, she has been able to live a life pleasing to God and has enjoyed his blessings.
I truly enjoyed this book. The fact that it was a true story was more than a little disturbing. To think that anyone could treat a family - especially his own pastor - the way the Nichols family was treated is unthinkable. Her ability to forgive the people responsible is a true testimony to her love of the Lord.
I received a free copy of this book to review from Tyndale. I have not been compensated for this review.